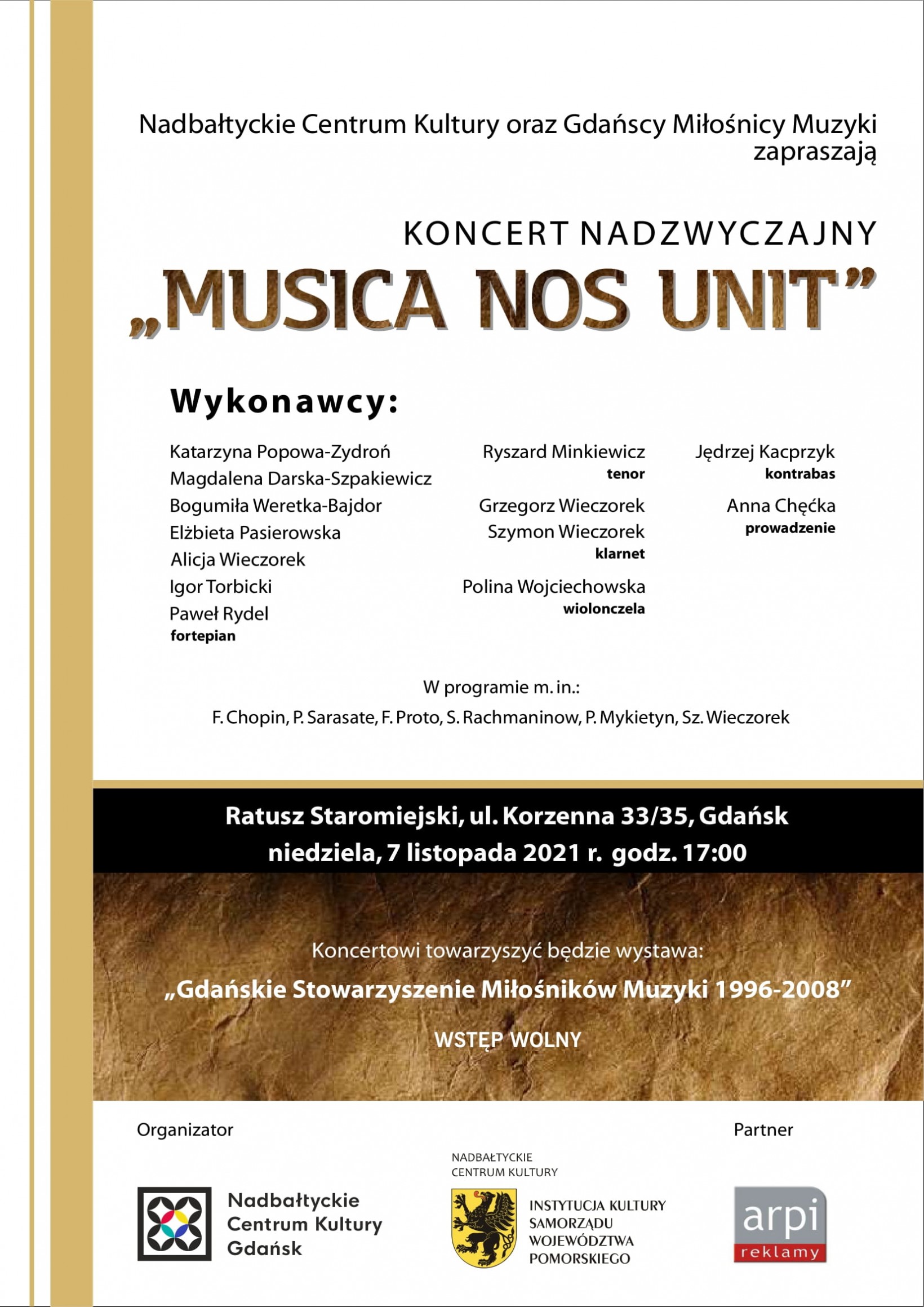 "MUSICA NOS UNIT" Special Concert
Old Town Hall
Start: 5.00 pm
Free admission
Gdańsk Music Lovers Association was founded 25 years ago on 5th of October 1996 by the most significant members of music society in Gdańsk, including the professors of the Music Academy in Gdańsk. The headquarters of the association became the historic Old Town Hall. The first and a long time chair was prof. Katarzyna Popowa-Zydroń. Her dedication was noticed and in 2004 she received the "Medal księcia Mściwoja" awarded by the Gdańsk City Council. Her work was continued by Paweł Rydel and Alicja Wieczorek. The periodic concerts gathered Polish and international musicians. The idea of Musica Nos Unit festival is to unite performers of all generations through music.
The Special Concert will present both renown musicians with debutants.
The programme will include both classics and 21st century pieces.
Programme:
Polina Wojciechowska – cello
Magdalena Darska-Szpakiewicz – piano
Pablo Sarasate – Gypsy Melodies op. 20 (for cello)
Igor Torbicki – piano
Paweł Mykietyn – Preludium no. 3 and 4 of the Four Preludes
Szymon Wieczorek – clarinet
Szymon Wieczorek – Etudes-structures for clarinet
Ryszard Minkiewicz – tenoir
Bogumiła Weretka-Bajdor – piano
Fryderic Chopin – Songs: "My Darling", "Ring", Lithuanian Song"
Jędrzej Kacprzyk – double bass
Elżbieta Pasierowska – piano
Frank Proto – A Carmen Fantasy (p. 3  Nocturne – Micalea's Aria and  p. 4 Toreador Song )
Paweł Rydel – piano
Sergey Rachmaninov – Preludium D-dur op. 23 no. 4
Katarzyna Popowa-Zydroń – piano
Alicja Wieczorek – piano
Paweł Rydel – piano
Sergiej Rachmaninow – 2 Pieces for 6 Hands (Waltz, Romance)
Katarzyna Popowa-Zydroń – piano
W.A. Mozart – Rondo F-dur KV 494
 
Grzegorz Wieczorek – clarinet
Alicja Wieczorek – piano
Ch. Windor – Introduction and Rondo op. 72 for clarinet and piano
Host: Anna Chęćka
Osoby ze szczególnymi potrzebami, proszone są o wcześniejsze zgłoszenie chęci udziału w wydarzeniu oraz kontakt na adres mailowy: anna.piotrowska@nck.org.pl lub sekretariat@nck.org.pl, a także bezpośrednio w siedzibie organizatora (ul. Korzenna 33/35, Gdańsk) od pon. do pt., w godz. 9:00-14:00 lub pod numerem telefonu 58 326 10 10